"Building a culture across a company where there are no offices requires intentionality. While technology and tools are enabling companies to operate efficiently in a remote setting, it's important to focus on documenting culture first, then using tools to support." — Darren Murph, Head of Remote at GitLab
Each company has a unique culture, whether it's tended to or not. Culture is like a garden—it will either grow wild on its own or, with pruning and care, it can be shaped into specific vision.
Define, document and communicate
If you've mostly been in an office, chances are company culture isn't thoroughly documented and actively updated. As you shift to a remote-first environment (whether for a period of time, or long-term) it's vital that you document and over-communicate your culture to make sure everyone is on the same page regardless of their geography.
To properly shape your company culture, you need to verbalize your Big Vision, state a Clear Mission, and get clarity on your Company Values.
Step 1: Sync with leadership to make sure your Big Vision and Company's Mission is up-to-date and clearly stated. A great refresher is here.
Step 2: Make sure your core values are up-to-date and documented in a place anyone in the company can easily find them (check out our suggestions on virtual knowledge bases in the remote toolkit).
Instead of re-writing what already exists, we highly suggest you pause here and jump over to Gitlab's excellent post on building and reinforcing culture in a remote environment (it's golden 🏆).
Recreating the water cooler
It's important to create time and space for serendipity and natural interactions that we would normally have when in-person. This isn't easy and it takes consistent thought and action to maintain as part of your company's remote culture fabric.
Social events hosted online
🍷Wine & Welch's Wednesday: this is a tradition created by the Avra Talent team, each Wednesday at 5pm EST the organizer logs onto Zoom and team mates from various timezones join for 30 minutes of fun. Those on early time zones bring their coffees, teas (or welch's grape juice 😜) while those on later time zones toast with their wine of choice.
🤗Team Happy Hour: similar to the above and done by a variety of companies like Github for years, each individual team organizes a happy hour (the same as they'd have in an colocated office) once a week and whoever can join pops in).
📺Movie Night: try out Netflix Party (a Chrome extension for watching Netflix remotely with friends) or everyone log on to Zoom to watch a film together syncing up your instant communication tool for running commentary.
🏕️In-person Meetups: in our current global pandemic this is less apt, but when things normalize creating in person meetups whether it's coworkers or friends who also work remotely is a great way to stay sane and social when working mostly online.
Slack + Zoom
We default to Slack and Zoom as our instant communication channels, but this works just as well with any messaging app or video collaboration tool.
☕#Coffee-break: a channel where people who are taking a quick break with a cup of whatever can shoot the breeze and connect.
🚰#Water-cooler: what it sounds like, for all the random thoughts, links and interactions that would normally happen around a water cooler or in an office kitchen. It's great to have one person a month be the moderator, tasked with dropping in conversation starters or asking questions to get the group engaged.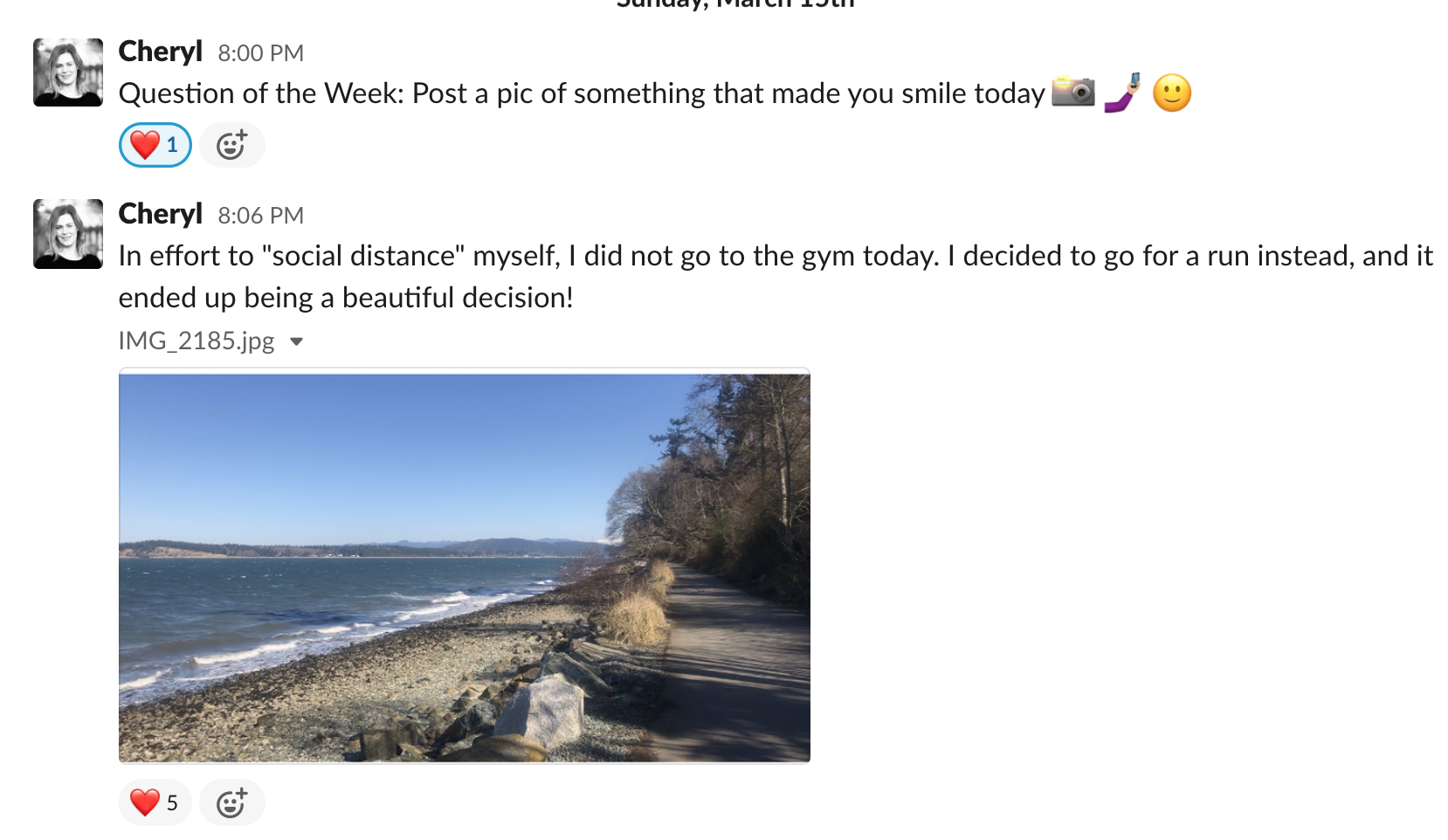 👋Have a "Live Remote Office": at the beginning of the day, the first person working starts a video chat that everyone joins (as available). Your team gets to see each other hard at work and are inspired to be more productive. It's easy to chat about issues that pop up too.
Given the tools they need, employees can and will build and share their culture.
> Next Up: Hiring Remote Employees